Back to Insights from TSX Trust.
Spotlight on Private Placements (Q1, 2022)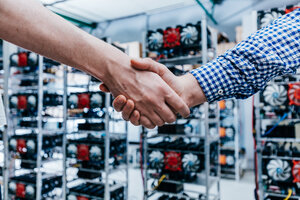 The following are some key observations about private placement activity on TSX and TSX Venture Exchange markets:
The mining sector had the most private placements on our Exchanges in Q1 with 258 deals, followed by the technology (26 deals) and the life sciences (24 deals) sectors.
The total number of private placements on our Exchanges in the first quarter of 2022 was 353, compared to 572 in Q1, 2021.
March was the best month of the first quarter in terms of the value of private placements on TSX and TSXV, with issuers raising approximately $883m.
To learn more, download the full report here.
TMX dealLINX: Backed by TSX Trust Company, part of TMX Group, TMX dealLINX is an automated private placement platform. It provides powerful tools and an enhanced user experience to control expenses and manage key processes, from distribution and collaboration, to compliance, to deal completion. For more information about TMX dealLINX, please visit the TMX dealLINX website.
Copyright © 2022 TSX Inc. All rights reserved. Do not copy, distribute, sell or modify this document without TSX Inc.'s prior written consent. This information is provided for information purposes only. Neither TMX Group Limited nor any of its affiliated companies guarantees the accuracy or completeness of the information contained in this publication, and we are not responsible for any errors or omissions in the information or your use of, or reliance thereon. This publication is not intended to provide legal, accounting, tax, investment, financial, or other advice and should not be relied upon for such advice. The information provided in this publication is not an invitation to purchase securities listed on Toronto Stock Exchange and/or TSX Venture Exchange. TMX Group and its affiliated companies do not endorse or recommend any securities referenced in this publication. The Future is Yours to See., TMX, the TMX design, TMX DealLinx, TMX Group, Toronto Stock Exchange, TSX, TSX Venture Exchange, TSXV and Voir le futur. Réaliser l'avenir. are the trademarks of TSX Inc. All other trademarks used are the property of their respective owners.