Client Testimonial
"Colliers recently held its annual meeting virtually using the TSX Trust Virtual Meetings Platform and we would highly recommend it. The platform ensured that we could deliver a compliant meeting with formal voting while still allowing us to be flexible in our approach. It is user friendly and provides organizers the ability to control all aspects of the meeting, from presentation formats to types of meeting materials. These features minimized the need for up-front rehearsals and allowed our production team to follow their own internal timelines without unnecessary adjustment for content uploading or conversion to continue working on video materials right until the meeting date."
Matthew Hawkins
Vice President, Legal Counsel & Corporate Secretary, Colliers
Increase Shareholder Access and Engagement
The accelerated shift toward more virtual ways of working is changing how organizations engage with their audiences online. TSX Trust Virtual Meeting Platform goes beyond video conferencing to provide an end-to-end meeting services technology solution for public and private companies of all sizes and industries.
Our dynamic and user-friendly tools offer stakeholders a seamless and interactive meeting experience that is fully virtual and highly secure. In addition, the platform supports meetings and interactions held in both English and French.
We help you broaden stakeholder reach and access while eliminating costs associated with travel and in-person events. From Annual General Meetings (AGMs) to any type of shareholder meetings, TSX Trust Virtual Meetings has you covered.
Reimagine Your Virtual Shareholder Meeting
TSX Trust has extensive experience supporting hundreds of shareholder meetings and other events annually. Our team of meeting professionals will work with you to plan and adapt your meeting for a virtual environment, help communicate with investors, and assist with filing requirements and deadlines.
We offer convenient and easy-to-use tools to assist with all your meeting services needs.
Virtual Meetings
Our technology platform offers a seamless virtual experience including video-slide integration, online voting, Q&A and reporting for AGMs, and all types of shareholder meetings and events in both English and French.
Regulatory Forms
From setting up a proxy form or facilitating the retrieval of non-objecting beneficial owners' (NOBO) records from intermediaries, we have your regulatory needs covered.
Printing and Mailing
We offer personalized offset and digital print and distribution services for all types of materials such as information circulars, financial statements and annual reports.
Facilitate Shareholder Engagement & Reporting
We're here to help companies maintain strong shareholder engagement while meeting disclosure and regulatory obligations using a robust technology solution.
Secure investor access using unique control numbers
Easy access for all stakeholders, including a conference line for chairperson and speakers to join the meeting
Live tabulation
Seamless video and slide integration
Interactivity through built-in Q&A function and internal chat feature between issuers and scrutineers
Toggle between public and private modes during intermission
Fully compatible platform for meetings held in French
Back-end reporting of all meeting activity, including voting results and summaries, and transcript of proceedings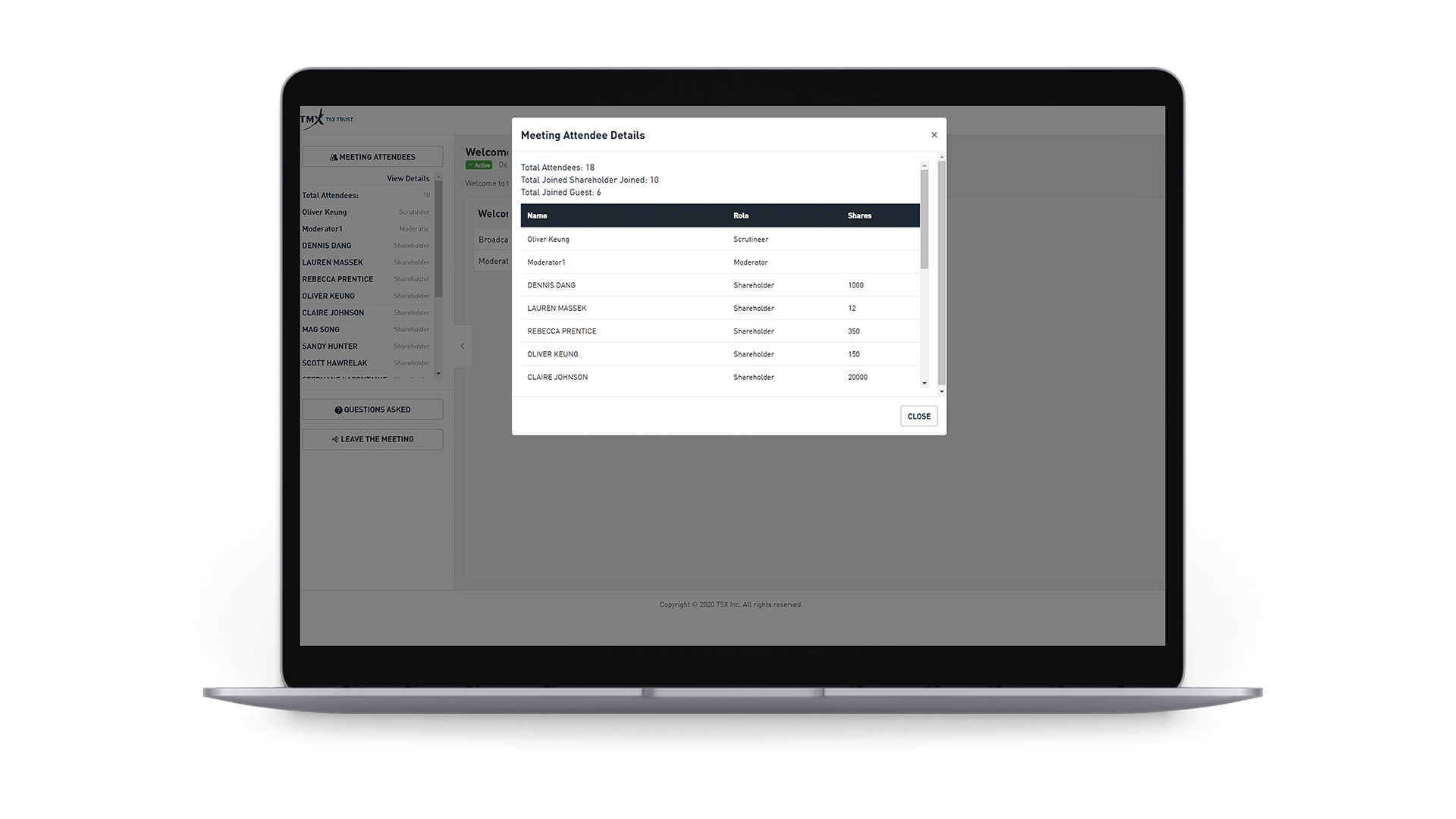 Benefits
Reach a broader shareholder base or audience
Practice good governance
Remove barriers to accessibility
Offer seamless and efficient participation for attendees
How it Works
1 Sign up now to receive more information
2 A dedicated TSX Trust relationship manager will assist you with your meeting needs
3 Plan your next meeting by managing critical event dates and coordinating printing and mailings quickly and easily
4 Conduct a successful meeting with tabulation, registration and scrutineering services