Time is money. Take control of your funding.
Raising capital, simplified. Manage critical workflows and experience private placement automation with TMX dealLINX.

Backed by TSX Trust Company, part of the TMX Group, TMX dealLINX is an automated private placement platform. It provides powerful tools and an enhanced user experience to control expenses and manage key processes, from distribution and collaboration, to compliance, to deal completion.
Features
Tools to help engage investors and secure funding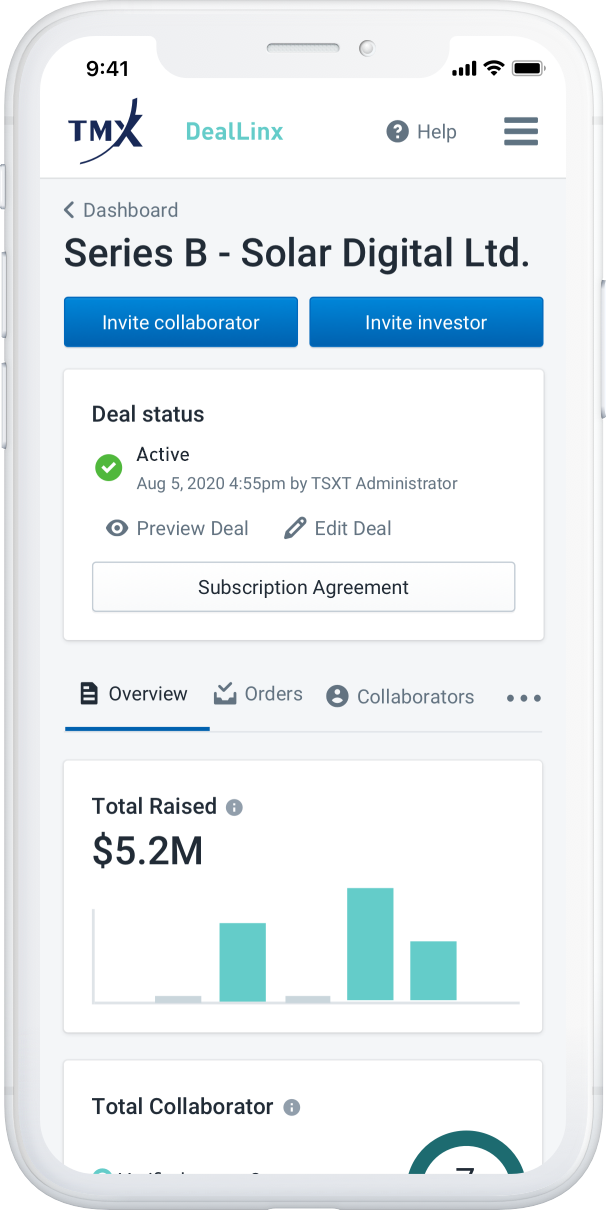 TMX dealLINX offers powerful tools for your deal stakeholders, meeting the needs of both your internal team members and professional service providers for efficient capital raising administration.
Automated Workflows and Know Your Client (KYC)

Manage Subscriptions

Standardize Compliance

Enhanced Security

Real-time Activity Dashboards
Features
Streamline your deal closing with payments administration
TMX dealLINX is backed by TSX Trust Company, an OSFI regulated trust company, ensuring the highest standard of confidence and transparency of cash management settlement:
Reduce money flow friction
Gain real-time visibility into deal progress
Accept funds from any type of qualified investor (retail or institutional)
Streamline payment reconciliation
Benefits
Introduce powerful tools for your deal stakeholders
TMX dealLINX offers an automated platform to facilitate completion of your transactions:
Simplify deal presentation, distribution and collaboration
Easily involve your legal team to manage the deal process
Centralize deals, KYC forms, documents and purchaser lists
Reduce admin overhead and errors with document tagging and e-signatures
Securely transfer funds to complete investments
How it works
Are you ready to simplify
your capital raise?
Get started today! Create an account in four simple steps:
Step 1 - Sign up now and create an account on TMX dealLINX

1

Step 2 - Pay your deal fee and complete our terms of service

2

Step 3 - Complete AML/KYC and create a deal for funding

3

Step 4 - Engage investors and raise capital

4
Are you Ready to Take Control
of Your Capital Raise?
Learn how
Top