Back to Insights from TSX Trust.
Private Placements on the Rise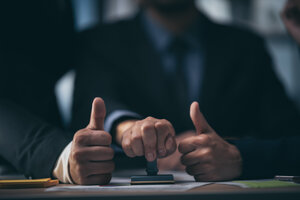 While the flurry of IPOs in Canada has attracted its fair share of media attention over the past year, the rapid growth of private placements has seemingly gone unnoticed.
As opposed to a public offering, a private placement allows companies to raise capital from a select group of sophisticated investors — including accredited individuals and institutional investors such as banks, pension funds, and insurance companies — without having to produce and file a costly prospectus with a securities regulator.
Since the beginning of last year, this form of financing has grown substantially for companies listed on Toronto Stock Exchange (TSX) and TSX Venture Exchange (TSXV). In 2020, the total value of private placements on our exchanges reached $14.5B, the second largest value of private placements in the past ten years.
The momentum has continued into 2021. In the first six months of this year, we've already seen a 79% increase from the same period last year, with companies on our exchanges raising $8.2B through private placements.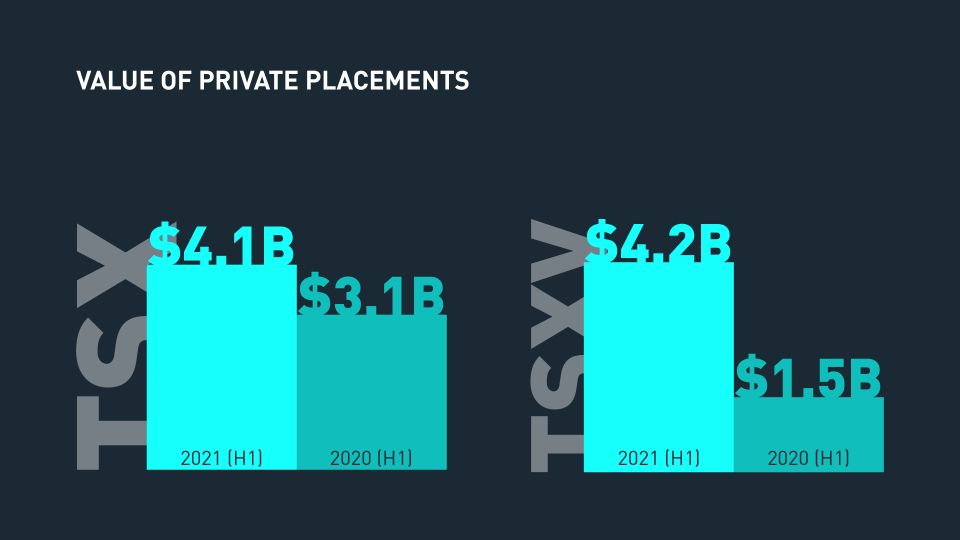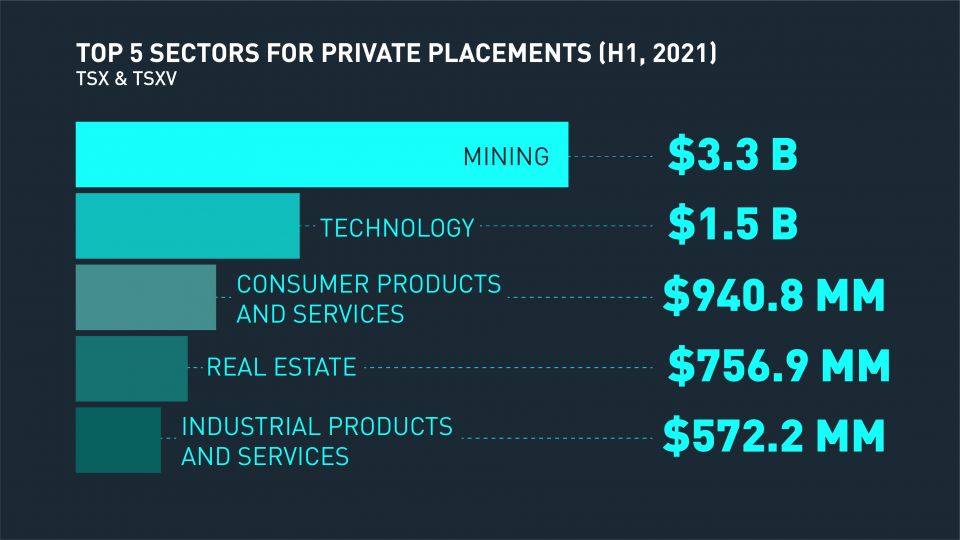 While statistics for private companies aren't as easy to track, PrivatePlacements.com, an online platform that aggregates information about private placement activity in Canada, provides some good insight. It estimates the total value of private placements in 2020 (including both public and private companies) at $37.4B - an 8% increase from the previous year. Notably, there was a 107% increase in the value of non-brokered private placements, pointing to, among other things, a sign of increased investor confidence.
Within the numbers, PrivatePlacements.com notes that the mining industry led the way with 1,713 private placement deals in 2020, followed by technology (487 deals), cannabis (292 deals), and healthcare (240 deals).
WHAT IS FUELING THIS GROWTH?
Typically, the number and value of private placements in a given year depend on various factors, including macroeconomic issues, industry trends, and investor appetite. However, it's worth pointing out that in two out of the last three years, the proportion of private placements relative to total financings (including initial public offerings, secondary public offerings, and private placements) on our exchanges exceeded 30% for the first time since 2000.
What is driving this growth, and is it sustainable?
While I'm not a speculator, some recent developments make private placements more attractive for companies and investors.
Overall, a continued low-interest environment has investors seeking yields and returns from various instruments, including alternative investments.
We've also seen some regulatory changes that have expanded the population of potential private placement investors. In particular, the new Family, Friends and Business Associates Prospectus Exemption adopted by the Ontario Securities Commission in 2015 allows companies to sell securities to certain family members, close personal friends and close business associates.
And finally, there are new innovations in the private placement space, including a number of websites and platforms connecting investors to companies looking to raise money. There's also been more innovation in making the process of private placements less manually-intensive: Earlier this year, TMX Group launched TMX dealLINX, an automated platform that simplifies the private placement process and helps private and public companies access capital faster.
For more information about TMX deaLINX, visit our website.
To access information about year-to-date data on listings, financings and trading activity across Toronto Stock Exchange and TSX Venture Exchange, visit our Market Intelligence Group page.
Copyright © 2021 TSX Inc. All rights reserved. Do not copy, distribute, sell or modify this article without TSX Inc.'s prior written consent. This information is provided for information purposes only. Neither TMX Group Limited nor any of its affiliated companies guarantees the completeness of the information contained in this article, and we are not responsible for any errors or omissions in or your use of, or reliance on, the information. This article is not intended to provide legal, accounting, tax, investment, financial or other advice and should not be relied upon for such advice. The information provided is not an invitation to purchase securities listed on Toronto Stock Exchange and/or TSX Venture Exchange. TMX Group and its affiliated companies do not endorse or recommend any securities referenced in this publication. TMX, the TMX design, TMX dealLINX, TMX Group, The Future is Yours to See., Toronto Stock Exchange, TSX, TSX Venture Exchange, TSXV and Voir le futur. Réaliser l'avenir. are the trademarks of TSX Inc.