Back to Insights from TSX Trust.
AGM Checklist: Practical tips to consider for your upcoming Virtual Shareholder Meeting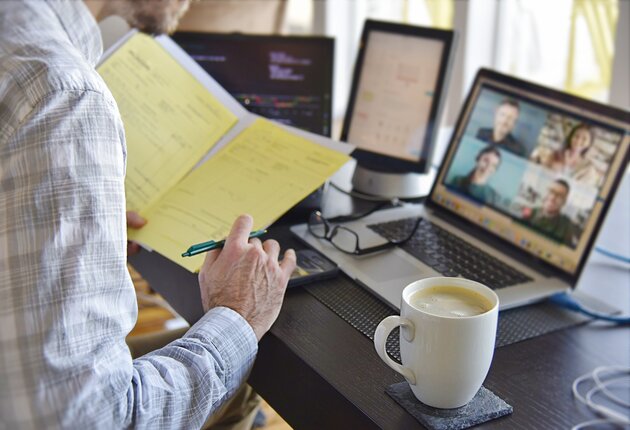 You've set a date for your annual general meeting and are planning to hold it virtually. So now what? What steps can you take between now and your AGM to ensure your meeting runs smoothly and without a hitch?
Last month, TSX Trust Chief Operating Officer Lara Donaldson participated in a Canadian Investor Relations Institute (CIRI) webinar titled Take Your 2021 Virtual AGM to the Next Level. As part of the event, Lara provided some practical tips on preparing for your AGM.
We've listed some of her suggestions below.
Consider the point of view of your shareholders when planning your agenda. Will you have a formal presentation at your AGM? Will there be video or slides?
According to a recent CIRI survey, more than two-thirds of companies had a formal presentation at their 2020 AGMs. Short videos are becoming an increasingly popular presentation format and can be repurposed for your website, social media, or email campaign. However, keep in mind that virtual attendees will have a different viewing experience, depending on their computer, mobile device or connection. Videos or text-heavy slides may not read as well for some attendees, so consider the pros and cons of your media of choice.
[RELATED: LEARN MORE ABOUT THE TSX TRUST VIRTUAL MEETING PLATFORM]
Provide clear instructions to your shareholders. A virtual format for a shareholder meeting is still a relatively new concept for many shareholders. In your meeting materials, on your website and investor portals, give clear instructions about how shareholders, proxy holders and guests can log into the platform and access technical support if needed. Remember to provide shareholders with protocols, an agenda and detailed directions about asking questions before and during the meeting. In fact, applicable laws may require you to allow shareholders to interact with the management during the shareholder meeting. Please check with your legal counsel about your legal obligations on this question.
Develop and share a script with team members. Well ahead of your meeting, develop a detailed script, and make sure all of your presenters are familiar with it so that if one speaker is disconnected, someone else can take over. Share your draft script with your virtual meeting provider and scrutineer, who can recommend language about meeting procedures and processes.
Establish roles, responsibilities and meeting procedures. In advance of your meeting date, specify the roles and responsibilities of your team members. Who will introduce the speakers? Who will manage the slides? Who is going to review the questions as they come in and direct them to the appropriate person? Who is going to move and second motions?
Tech checks are critical. Make sure everyone is comfortable with the virtual platform. Have your IT team involved early in the process and provide your presenters with a technology checklist with the following tips:
Test your laptop, internet connectivity, camera and audio well ahead before the meeting starts.
If you are presenting from home instead of being in the office, make sure your Internet connection is as strong as possible. Don't have programs running in the background, and try to get your kids off the wifi.
Make sure your laptop and accessories are fully charged.
For presenters who will be on video:

Put your camera at face level.
If possible, have a hard-wired connection to the internet.
Use a wired headset to reduce latency.
Make sure lighting is bright and even to avoid shadows.
[RELATED: HOW TO PREPARE FOR YOUR 2021 VIRTUAL ANNUAL GENERAL MEETING]

Rehearse, rehearse, and rehearse. We always recommend multiple dry runs ahead of your AGM. You may need two separate sessions with your virtual meeting service provider: the first is to get familiar with the platform and the features you'll be using, and another one closer to the meeting date to rehearse the meeting process and talk about possible scenarios that may arise.
Have contingency plans in place. As we all know, technical difficulties can happen at the worst of times. If a presenter drops off the meeting unexpectedly, will someone else take over or will you announce a brief delay? Silence at a virtual AGM is never a good thing. Set up and test an offline communication channel such as Zoom, WhatsApp or group-text so that if a presenter does drop off a call, they can still communicate with the rest of the team.
Have an AGM debrief shortly after your meeting. Arrange a meeting with your AGM team — including your corporate secretary, speakers, IR and IT teams, etc. — soon after your meeting while everyone's memory is still fresh to capture key learnings. What went well? What would you do differently? Are there new features you'd like to incorporate for future meetings?
It's also a good idea to reach out to your AGM attendees, especially your key shareholders and other stakeholders, to get their thoughts. We've even seen some issuers send out a short survey to attendees.
Whether in virtual-only or hybrid form, we believe virtual meetings are here to stay even beyond the COVID-19 pandemic.
We hope these practical tips will help you prepare for and deliver a well-ordered and successful meeting and enhance your shareholder experience.
Good luck!
Copyright © 2021 TSX Inc. All rights reserved. Do not copy, distribute, sell or modify this document without TSX Inc.'s prior written consent. This information is provided for information purposes only. Neither TMX Group Limited nor any of its affiliated companies guarantees the completeness of the information contained in this publication, and we are not responsible for any errors or omissions in or your use of, or reliance on, the information. This publication is not intended to provide legal, accounting, tax, investment, financial or other advice and should not be relied upon for such advice. The information provided is not an invitation to purchase securities listed on Toronto Stock Exchange and/or TSX Venture Exchange. TMX, the TMX design, The Future is Yours to See., TSX, and Voir le futur. Réaliser l'avenir. are the trademarks of TSX Inc.