Back to Insights from TSX Trust.
TMX POV - From Niche to Mainstream: ESG Investing is Here to Stay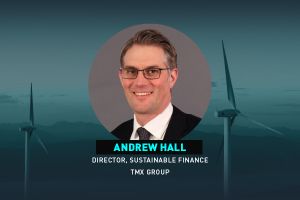 The evidence is in: ESG (Environmental, Social and Governance) or sustainable investing is not a fad! In just the past few years, we've seen ESG investing emerge from a niche investment approach to something approaching mainstream for both institutional and retail investors.
Consider the following statistics: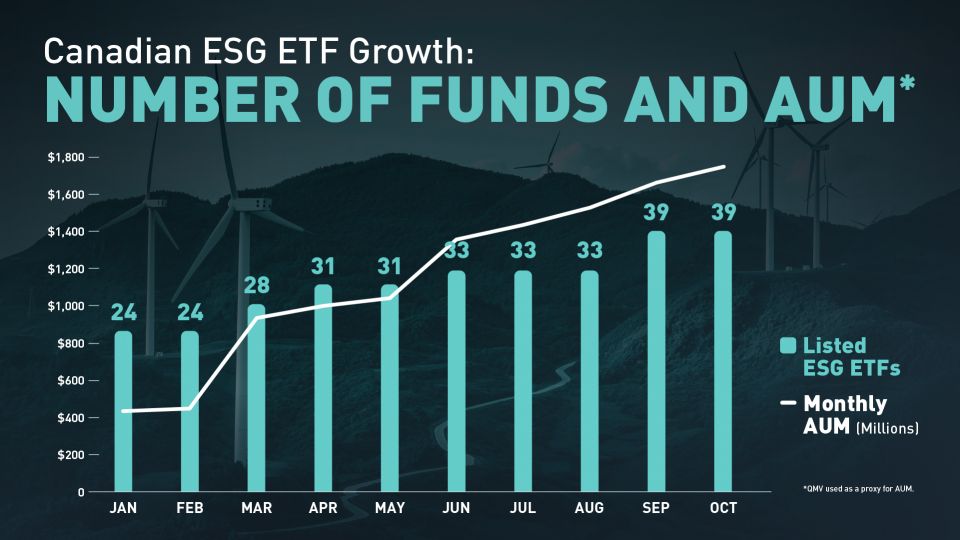 What is clear is that ESG investing is not an ephemeral trend, but a secular shift in how investments are being analyzed and decisions are being made.
For those new to this space, it can all be a little confusing. According to the Responsible Investment Association 2019 Investor Opinion Survey, 86% of Canadian retail respondents are looking for more information related to ESG and sustainable investing.
Below, we provide answers to some of the questions investors may have:
What are the different approaches to sustainable investing?
Some still consider sustainable or ESG investing as investment strategies focussed on pure 'green' industries like renewable power or electric transportation. However, the reality is that sustainable and ESG investing opportunities span all sectors, including technology, mining, communications, oil and gas, agriculture, etc. In other words, ESG is not a sector nor an asset class, it is an investment approach that can be integrated into one's own investment style and risk/reward appetite.
The following provides a sample of the different approaches that may be used:
ESG integration: This involves building-in ESG considerations into the financial analysis of a company. This is premised on showing that ESG metrics can impact the long-term value, and thus the valuation of a company.
Thematic investing: As the name suggests, this is investing in companies involved in a specific industry sector or 'theme' such as renewable energy, energy efficiency, low-carbon technologies, etc.
Negative exclusions: This involves removing companies or whole industries from an investment portfolio based on activities they are involved in, such as tobacco or firearms.
Impact investing: This approach is focused on generating a specific positive social or environmental outcome in addition to a financial return. These can include investments in such things as education, healthcare and poverty reduction.
Norms-based investing: This evaluates investments against certain criteria that may involve environmental, social or governance considerations. For example, investments could be evaluated against the UN Global Compact or OECD Guidelines for Multinational Enterprises.
While not an exhaustive list, the above illustrates that there are diverse ESG investing approaches with no one-size-fits-all strategy. One can create a sustainable portfolio that includes oil and gas companies with strong ESG practices along with renewable power companies. In the next couple of years ESG investing approaches will further expand as a growing number of sectors and companies begin to migrate towards increasingly sustainable business models.
What are the different avenues to invest in ESG?
ESG or sustainable investing opportunities span the breadth of existing investment products ranging from investments in single equities to fixed income to diversified funds and ETFs to derivatives.
ETFs are a popular way to gain exposure to ESG and sustainable investing. Currently there are close to 40 ETFs listed on Toronto Stock Exchange including offerings focussed on low or no CO2 emissions, sustainable bonds, best in class ESG scores and women in leadership. TMX's recently launched Sustainable Investing website provides a list of all of the available ESG ETFs from various ETF providers.
To meet more sophisticated client needs, the Montreal Exchange has a wide range of options and single stock futures that can provide a capital efficient avenue to gain or manage exposure to individual equities. In late 2020 the Montreal Exchange will also be launching ESG index futures.
This suite of products will continue to grow in 2021, enabling retail and institutional investors to gain exposure and manage risk in line with their personal ESG investment objectives or UN PRI commitments.
What are the risks and opportunities associated with ESG investing?
Historically, ESG and sustainable investing were perceived to involve a trade-off between value and values. In other words, investing according to one's values meant potentially accepting a lower return. While the jury may still be out on that, there is a growing body of research that indicates that this type of investing can lead to comparable performance at lower risk over time, or, in some cases, outperformance.
For example, a Morningstar Q1 2020 analysis of Canadian ESG fund performance found that 74% outperformed a more traditional fund group during the first quarter of this year. This finding is consistent with what they have observed in other markets. Of course ESG or sustainable investing is not immune to the types of risks that can impact any type of investment and one should consult with a professional before proceeding.
How do I learn more about ESG investing?
The Canadian Responsible Investing Association has many informational resources available for investors as do many of the bank and asset management firm websites. Financial advisors may also be a good source of information. TMX's recently launched Sustainable Investing website provides information on a growing list of sustainable investment products, along with related articles and guides that can help form a good foundation of understanding on this topic.