Back to Insights from TSX Trust.
Corporate Restructurings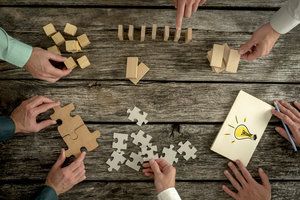 Corporate Trust Services
Our Capabilities. Our Solutions. Your Benefits.
In this unprecedented time in our history, corporations are dealing with a new suite of concerns and uncharted territory.
Owned by TMX Group, TSX Trust is experienced and equipped to listen and respond to your unique needs. Having had extensive experience creating solutions in response to Canada's 2008/9 financial crisis, our team is well equipped to develop solutions for corporations, their counsel, investors, industry, governments, and court-appointed monitors as the economy deals with fallout from the pandemic.
As the largest Canadian-owned Corporate Trust Services provider, TSX Trust offers solutions in the area of Corporate Restructurings and Reorganizations. Our team of experienced professionals understands what you require in a service provider and delivers solutions that maximize the value of your restructuring transactions. The team is available to work with you and your counsel to respond to your needs within restructuring plans, customizing a solution that is right for you.
By listening to and understanding your needs, our experienced team of professionals will draw upon their extensive industry knowledge and experience and the depth of the TMX organization to customize a solution that meets your specific requirement. We'll then implement the solution and keep you fully informed every step of the way.
We offer expertise in a number of areas including:
Trustee and fiduciary services
Communications
Technological expertise, unique reporting, administration
Debt restructurings, refinancings, and reorganizations
Debtholder meetings
Administrative agency functions
Why Choose Us
In appointing TSX Trust as your service provider, you will be assigned a dedicated trust officer who will manage all aspects of your restructuring related needs from the early stages through to closing, and beyond. Your trust officer is supported by an experienced team of professionals who ensure that your transaction needs are seamlessly coordinated. You can expect personalized, highly responsive service, creativity and flexibility in dealing with all types of situations that may arise during a transaction.
TSX Trust Advantage
With offices in Toronto, Calgary, Vancouver and Montréal, TSX Trust is a leading Canadian provider of Trust services, building our business on three key pillars - superior service, depth of expertise and superb execution. Moreover, as part of TMX Group, we have a unique relationship with the largest capital formation ecosystem in the country, and we are able to leverage leading technology and information security. TSX Trust is a Canadian federally regulated trust company with strict internal controls and all relevant insurance, providing security and peace of mind.
Corporate Restructurings & Reorganizations
Our services include:
Trustee, Registrar & Paying Agent
TSX Trust acts as a Trustee, Registrar & Paying Agent for Issuers, taking on a fiduciary capacity for debt holders, maintaining a register, making payments of interest and principal, and monitoring Issuer obligations pursuant to the governing documentation. These roles can relate to restructured existing debt, refinanced debt, new notes being issued as part of Companies' Creditors Arrangement Act ("CCAA") restructurings, and secured and unsecured debt issuances.
Depositary & Exchange Agent Services
Serving public and private companies, our specialized team focuses on the details, providing prompt, accurate and personalized service. Our in-depth knowledge in the area of Depositary and Exchange Agency roles, includes our ability to facilitate exchanges and entitlement distributions under plans of arrangement, CCAA filings, and other reorganizations, including transactions that relate to cash, securities, or a combination of both.
Collateral Trustee
As specific requirements dictate, TSX Trust takes on a security interest in applicable assets and can also take on a safekeeping function for any physical collateral.
Independent Trustee
As a licensed trust company, TSX Trust is able to act as a Trustee, when circumstances require that funds be set aside in an independent Trust. The team is experienced in the creation and setting up of such Trusts, and in their administration.
Debtholder Meetings
TSX Trust provides Debtholder meeting services, which may include carrying out the functions of calling and convening meetings, acting as Tabulation Agent and Scrutineer by and within the terms of governing trust indentures, where applicable. The Corporate Trust team is experienced in the area of Extraordinary Resolutions and works closely with our Client Services staff to ensure a smooth meeting process.
Escrow Agent
TSX Trust acts as an independent agent offering third-party escrow services and solutions to both public and private corporations. Our escrow services include government mandated escrows, stimulus related escrows, cash escrows, securities escrows, regulatory escrows, and satisfy the need to set funds aside with an independent third party in response to a variety of requirements.
---
Geralyn Krowles joined TSX Trust in September, 2019 as Vice President, Corporate Trust, with 25 years experience in the industry. Geralyn has led diverse teams of trust experts and has a depth of experience with high profile and large corporations and with the more complex transactions. Included in Geralyn's broad base of Corporate Trust experience is the $32B third-party Asset-Backed Commercial Paper ("ABCP") crisis, having worked with impacted clients, affected debtholders and other principal players, throughout both the collapse and the restructuring process. A keen sensitivity to risk and compliance related matters has been fostered and grown throughout her time in the industry.
Geralyn has an Honours Bachelor of Arts degree from the University of Toronto, and has continued her education in the Trust field having achieved Member, Corporate Trust status with the Trust Companies Institute ("TCI").