Back to Insights from TSX Trust.
Responding to the Unprecedented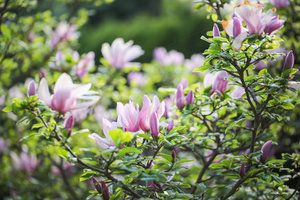 With so much of life at a standstill, it is reassuring to see anything that continues to be active, to grow, to progress, to bear fruit. The pride and joy of my garden each year is my Magnolia tree. This year despite the quietness of the neighbourhood, despite the highly fluid and changeable situation in the world, despite COVID-19, she decided to bloom anyway, and to do so abundantly.
I have been so impressed and feel genuinely valued, confident and safe, given the response of my somewhat new employer. TMX's leadership team has been thoughtful, trusting, deliberate, bold, and informed in their reaction to COVID-19. From the beginning, its duty has been to its employees and its clients - firmly believing that looking after these groups, will ultimately benefit both the business and the broader economy. Never have I appreciated my HR team's expertise, direction and leadership more than at this extremely difficult time. Similarly, my colleagues in our Technology team have also been very much out front and one step ahead when it comes to enabling us to do what we need to do for our clients.Others in my circle outside of here, have not had great support, and have found the past weeks to be excessively stressful. In contrast, my own experience has been one of trusting staff and allowing the necessary time for employees to ensure their families and loved ones are safe as they adapt to this new world. That liberty that I've been given allows me to keep my elder parent safe, or my young child engaged in a remote classroom learning exercise, or to get essential groceries at a quieter time. Workplace sociology research suggests that employees who feel supported by their employer in a crisis will give back to their company abundantly. Perhaps when this ends, employees will re-evaluate things and make changes after considering how their employer has responded to them during this highly stressful and unparalleled global event.
I continue to be inspired with my TMX colleagues, who go above and beyond for clients and each other alike, despite every new challenge and every new demand imposed on us by COVID-19. This has very much been the case in the Corporate Trust team. This crisis has prompted us to learn how to carry out daily functions remotely, to execute documentation using Docusign, to stay close to issuer covenants and holder needs, to be extra diligent in case of any new defaults and to ensure that any new potential areas of risk are mitigated with the required controls. The team has worked to identify and anticipate emerging areas of need for our clients, and has recently responded to multiple requests for Escrow services related to personal protective equipment. We have used Google Hangouts to come together as we would at the office. We have, like so many others, had a window into the non-work lives of our colleagues, as children jump up on laps during calls, and family members compete for premium work space in the home. This small window into our personal lives reminds us of our humanness, and has enhanced the relationships between us.
We're committed to working even more closely with you, our clients, during these exceptional times. We are focused on helping you find solutions to the new challenges impacting your world. Your TSX Trust team is looking forward to supporting you in the days ahead, as we all continue to adjust to the reality of working in the face of this global pandemic.