Back to Insights from TSX Trust.
Message from TSX Trust President, Claire Johnson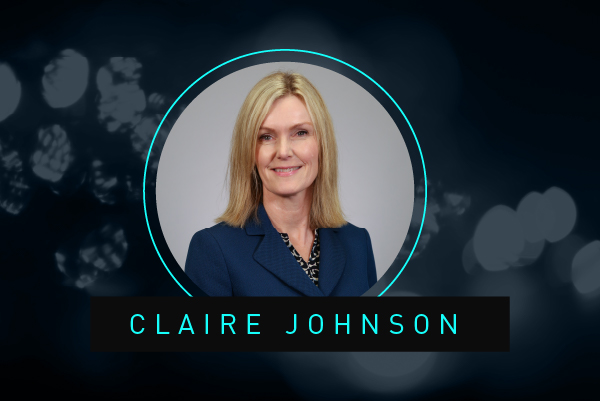 As 2021 draws to a close, I want to offer my thanks to all of our clients who have chosen to work with us over the past year. Whether you are a long-time client or one of the new clients joining us from our acquisition of AST Trust Company (Canada), we appreciate your business and value our relationship.
We know that 2021 was another very challenging year for many of you. But, while uncertainty around COVID-19 lingers, we're grateful for the progress we have made in the battle against the pandemic and for the perseverance and adaptive leadership shown by you as your businesses continued to keep Canada's economy running.
I'm also grateful to the TSX Trust team of approximately 300 professionals in offices in Vancouver, Calgary, Toronto, and Montreal, for staying client-focused. I'm proud of what our team has done to solve client challenges, meet your evolving needs, and support the growth and success of your business through these challenging times.
Some of the initiatives I'm most proud of include:
The TSX Virtual Meeting Platform, offering clients a seamless virtual experience including video-slide integration, online voting, Q&A and reporting for AGMs, and all types of shareholder meetings and events. For your 2022 meetings, we've made several enhancements to the platform, including new bilingual capabilities.
TMX dealLINX, an automated private placement platform that allows companies to raise capital faster while reducing compliance risk and administrative overhead. We're continuing to improve the TMX dealLINX digital experience with payment processing capabilities, more automation, and an enhanced user experience.
Thought leadership and education resources: We continue to support the success of our clients through thought leadership and education initiatives. TSX Trust and TMX Company Services, and the broader TMX Group created over 100 thought leadership and education articles in 2021 on topics ranging from preparing for your AGM, board composition, and ESG-reporting. We also remain active through our participation in expert panels and various industry organizations to be close to evolving issuer trends.
Newly integrated TSXTrust.com: We have updated the TSX Trust website so that it's easier to navigate, and more user-friendly with quick access to information about our Issuer & Investor Services, Governance, Proxy & Ownership Services, Corporate Trust and Structured Financial Services.
Of course, the biggest news for us this year was completing the acquisition of AST Trust Company (Canada). The acquisition adds dynamic new product and technology capabilities to our business and strengthens our ability to serve clients' evolving needs today and well into the future. As part of the acquisition, we are also pleased to welcome a diverse team of industry professionals with deep and proven expertise across Canada.
Looking ahead to 2022, we remain committed to delivering an outstanding client experience with new investments in human resources and digitalization, and innovations in our product and service offerings. I'm also very excited to announce plans to launch our new next-generation contact centre, focused on investor and client needs, which will include an integrated workforce planning and performance management system, speech analytics, and enhanced reporting capabilities.
Finally, as an organization, we are conscious that many families are experiencing difficulties and especially so during the holidays. As we did last year, we are donating to food banks across the country — in the communities in which we operate. Giving back is a priority for us and we encourage you to donate also, if you're able.
Once again, on behalf of the entire team at TSX Trust, we wish you and your families a healthy and safe holiday season.
In the weeks ahead, we intend to increase engagement with clients to gather feedback on how we can better serve your needs. In the meantime, if you would like to talk further about our services or how we can support your success in the new year, please feel free to reach out to me at any time at claire.johnson@tmx.com.
Sincerely,
Claire Johnson
President
TSX Trust