Back to Insights from TSX Trust.
2020 Virtual Meeting Season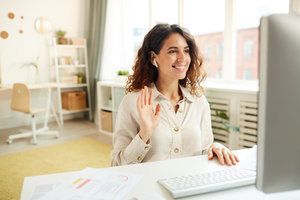 For many issuers, the 2020 annual meeting season amid the COVID-19 pandemic has been a learning experience, with most exploring or hosting virtual-only meetings for the first time.
TSX Trust, in partnership with Lumi Global, continues to provide virtual meeting services to issuers. As there is a limited number of technology providers in Canada, meeting the high demands of supporting virtual meetings during the proxy season has proven difficult. Challenges started to emerge in March, when we started hearing from clients who were scheduling their AGM for May and June and were not able to secure a virtual meeting technology provider. Some issuers had already mailed meeting materials to shareholders, or were in the process of mailing and had to switch to a virtual meeting. To date, more than 160 TSX and TSX Venture issuers have scheduled virtual only annual shareholders' meetings (compared to 6 virtuals meetings held in 2019)1.We recognized the concern, confusion and frustration that stemmed from the fact that many issuers have never hosted a virtual meeting. We responded quickly to help clients navigate the requirements and worked with our partners to provide solutions and answers to clients' questions. To address this, TSX Trust began offering virtual meeting services supported by TSX Trust staff, using Lumi's virtual meeting platform. This meant that we were not relying on Lumi's availability to provide full support.
We are happy to report that the majority of our clients have successfully switched or have hosted their first virtual meeting. Some issuers have chosen to delay their annual meeting as a result of regulatory relief guidance.
There are many benefits to Virtual Meeting Services, including:
Real-time virtual attendance
Managed Questions and Answers - Questions can be submitted in text form. These questions can be moderated and published to the chairperson, meeting attendees or both
Ballot tabulation and reporting, including full vote reporting on all motions
More access for shareholders unable to travel to meetings, whether due to COVID-19, or other inability to travel
An opportunity for shareholder voices to be heard, as more shareholders can attend the meeting, and many may be more comfortable asking questions remotely rather than in person.
We believe the pandemic has reshaped the way issuers do business and the 2020 meeting season may be the turning point for virtual meetings in Canada. We are already seeing new technology providers entering the space and some that have started to offer their services from south of the border.
We continue to be fully committed and look at different ways to better service you and provide solutions to meet your business needs. If you are interested in more information about the services TSX Trust can offer in connection with virtual or hybrid shareholder meetings, please contact your relationship manager.
1 https://www.timelydisclosure.com/2020/04/20/2020-virtual-agm-proxy-season-key-takeaways-to-date/